William Morris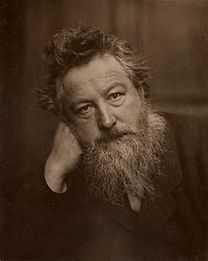 William Morris was a major figure within the Arts and Craft period at the end of the 19th Century, and with his friends in the pre-Raphaelite movement, he revolutionised art and design in the Victorian era.

Morris was an architect, furniture and textile designer, artist, writer and socialist who felt passionately about the integrity of design and its relevance to working people. Born in Walthamstow, East London, he moved his company, Morris and Co, to the River Wandle at Merton Abbey Mills, South Wimbledon in 1881. The works produced his world famous designs for fabrics, ceramics and stained glass.

Between 1881 and 1896 Morris collaborated with the celebrated artist Edward Burne-Jones at his workshop in Wimbledon. Morris advocated treating workers fairly, helping in their artistic and educational development. He paid above the rate to his staff, provided them with a library for their education, and clean and healthy surroundings in which to work.

He often held meetings in the Wimbledon area putting forward his radical views on art and politics. Morris & Co continued to operate at Merton Abbey Mills until 1940.

Although Morris died in 1896, many of his staff were encouraged by him and his ideas to become involved in community activity. Workers from the William Morris Works were instrumental in helping purchase William Morris House. The building was opened on 30th September 1922 by Rt Hon Arthur Henderson MP as meeting rooms for local people and their organisations.


---